A café whose weekend's breakfast menu is just as overwhelming as its weekday's lunches are and choice of homemade cakes, naturally shall not be missed on my list of recommendable places to eat out. 
Hallo Kleines on Weidenallee in Schanzenviertel is one of those places: Whether I order an Indian coconut curry with pumpkin and vegetables or fish with herbs, mashed potatoes and cucumber salad for lunch, or have to choose between a slice of berry cheesecake, apple crumble and chocolate cake as my weekend treat, I can be sure that everything is going to be amazing.
Just like the name ("Hallo Kleines" means "Hello little one" or so) hypothesizes, the seats inside the café are limited. Thus, whilst it was still warm enough, I met some friends for breakfast outside. Now that it's wintertime, make sure to come early to get a seat; if you have troubles getting out of bed on a dark November morning, just imagine the world's best homemade strawberry jam – and I am sure, you will quickly jump out of bed.
The jam is served with scones and cream for instance, as well as with the vegetarian breakfast. This one also consists of spicy fig mustard and a glass of each Caprese and herbed cream cheese; needless to say, the result looks similar to an artwork!
However, like always in life good things only come to those who wait, and since breakfast at Hallo Kleines is a very good thing, I suggest you bring some time with you. But anyway, it's the weekend and time shouldn't matter. Just order a mint and ginger tea, watch the stunning cakes on the cake stand – and I'm sure your breakfast (and maybe a slice of cake as dessert) is worth the wait!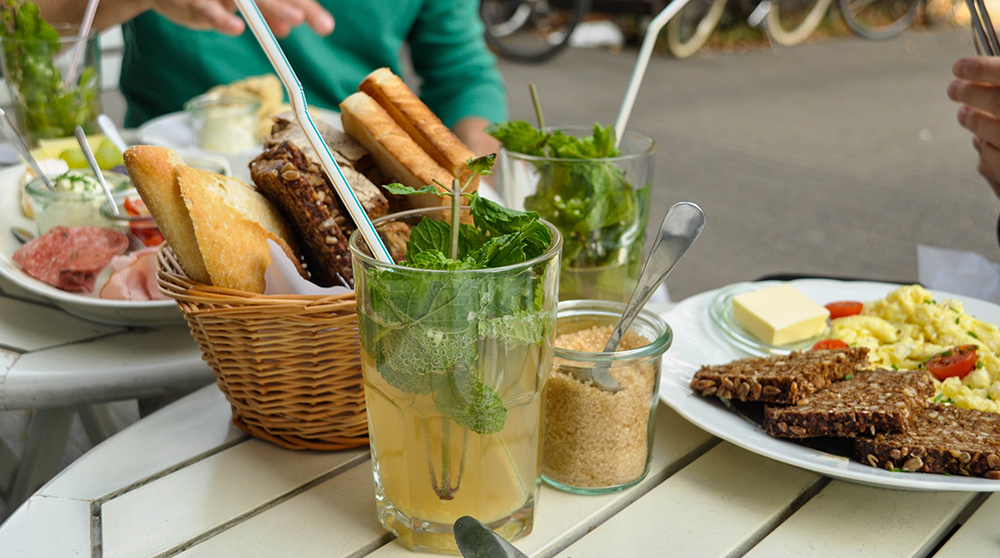 Hallo Kleines
Weidenallee 61
20357 Hamburg
+ 49 40 38 66 93 33
Open from Tuesday to Friday from 10 am to 5 pm, Saturday and Sunday from 10 am to 6 pm